I've been on fieldwork in Namibia, near Etosha, setting up some vegetation monitoring plots in Ongava Game Reserve. This involves measuring the stem diameter of every tree within a 100x100 m square, and affixing a numbered metal tag that identifies that stem so its growth can be monitored over time. This means a lot of time spent walking around in the plot with tape measures, a notebook, a GPS, a compass and many other small pieces of equipment. In the past, I always shoved things in my pockets and carried other things in my rucksack. This meant however, that if I needed something from the rucksack I would have to stop and take it off, rummage around, then close the bag and put it back on. Also, having all these things in my pockets meant that inevitably something would fall out or I'd rip a hole in the pocket and spend the rest of the day constantly retrieving stuff from the bottom of my trouser leg.
This time, I decided to buy a bumbag to try and solve these issues. Specifically, I purchased the Snugpak Response Pak . This bag has a main pocket, two side pockets, and a front pocket, all of them zipped. The front and main pocket also have divider pockets inside to keep stuff organised. The bag has a waist strap with wide webbing and a big plastic buckle. The bag also has a carry handle attached by buckles which go around the main and front pockets.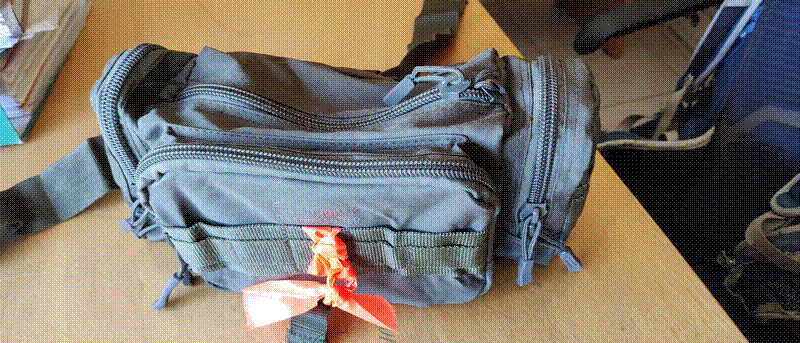 For a normal day tagging trees I have been carrying in the bumbag:
Front pocket:

Waterproof notebook
2x mechanical pencils, one thick, one thin
Biro pen
Ruler
Permanent marker
Spare batteries for GPS and headtorch

Main pocket:

Large fixed blade knife
Small swiss army knife
Electrical tape
Orange flagging tape
Compass
2x DBH tapes
Hand lens
Headtorch
Lens cleaning fluid and wipes
Phone
Lighter

Side pocket 1:
Side pocket 2: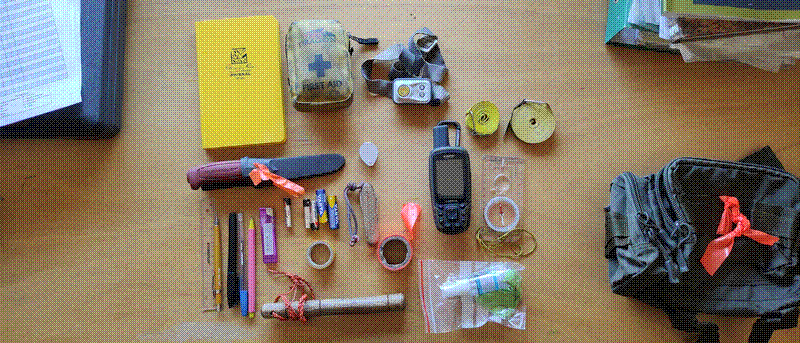 In the field the bag has worked very well. When working with a clipboard I can wear the bag on my front and rest the clipboard on it. Most of the time though, I wear the bag on my lower back where it is more comfortable. I've also been using the bag for trips to town, wearing it across my shoulder and chest as a messenger bag with the waist strap loosened all the way.
My main complaint is that the waist strap is sewn a bit low on the bag, meaning that when the bag is full it pulls forwards. I think it would be better if the strap was sewn a bit higher.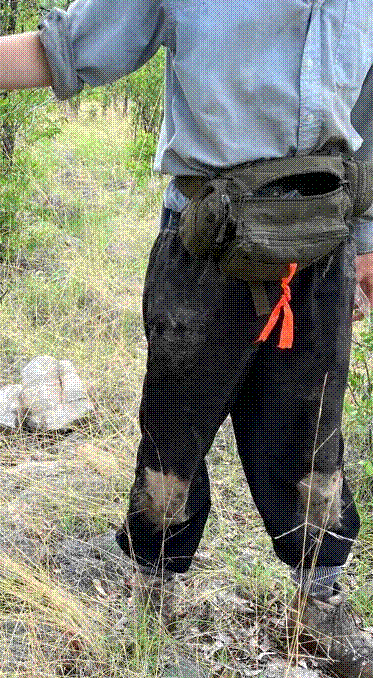 To help carry items for actually tagging trees, I also purchased a Stanley STST1-80114 nail belt . This has three pockets, a hammer loop, and two slots for pens. In the large pocket I put the nails. In the front smaller pocket I put the current bundle of tags, and in the rear smaller pocket I put a 20 cm DBH measuring stick and the next bundle of tags. I added a shoulder carrying strap made from rope so the bag can be worn a bit higher, rather than carried on a belt.